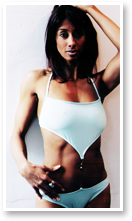 "Where to start!?! Shaz is hands down one of the most positive upbeat people I have ever met in my life. Her energy is contagious! She is not only a wonderful friend but she is the most amazing trainer. She truly cares about you and creates a custom plan to support your health goals. Shaz has been my number one supporter and has gone above and beyond not only physically training me in the gym but also continually checking in on me daily to see how I'm doing and showing me love and support in all aspects of my life. I've had quite a few health issues over the last couple of years and have really struggled with inflammation and weight gain and struggling to stay motivated through it all. She listened to my concerns and issues and setup a plan right away. She also put me in touch with the most wonderful naturopathic doctor, Tasreen Alibhai, to help with investigating with some of the internal health concerns I was struggling with and has been the ultimate cherry on top of the experience. She is so invested in her clients and truly cares that you are getting the full 360 degree health experience. Best trainer in the biz!"
- Kellyn Violot
30
|
29
|
28
|
27
|
26
|
25
|
24
|
23
|
22
|
21
|
20
|
19
|
18
|
17
|
16
|
15
|
14
|
13
|
12
|
11
|
10
|
09
|
08
|
07
|
06
|
05
|
04
|
03
|
02
|
01
» Submit a Testimonial «

Watch your body transform!
When you nourish your body with pure Energy,
you transform from the inside out. You will
learn How to Lose Fat and Increase Strength
by exercising less. Learn how to trade hours of
aerobics for minutes of weight training with
Dramatic results,how you can be Extraordinary
rather than Ordinary, hw to Balance your Body,
Mind and Soul. Life, the ultimate challenge,
Is not a race to the finish but rather a process
of continual growth.