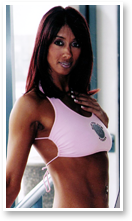 SHAZIA PAROO
PERSONAL TRAINER AND LIFE COACH

Shazia Paroo is a Certified Personal Trainer, Group Fitness Leader, Pilates instructor, and Life Coach.

Her energy and focus motivates others around her to improve the quality of their life through fitness and health. If you're willing to invest time and money in your future, why wouldn't you invest time and money in your body? Shazia competed in her first FAME competition in 2005. Today, her ongoing passion In Health & Fitness has made her one of the Top Trainers in Vancouver.

She focuses on Kickboxing, Weight & Interval Training, Strength, Nutrition, Fat Loss, Lifestyle Management and Motivation. If you could do it on your own......you'd already be there!

"There are so many beautiful specimens in this city......but I can still make them tighter and tougher! Let me show you the way to a Strong and Healthy lifestyle!"
Shazia Paroo

Cerifications:

• ACE/BCRPA certified
• Pilates Instructor
• Injury & Rehab
• CRP/First Aid
• Weight Training
• Core/Strength training
• Body Sculpting
• Fat Loss
• Diet and Meal Plans
• Lifestyle Management
• Motivation


"Be not afraid of going slow but be afraid of standing still."